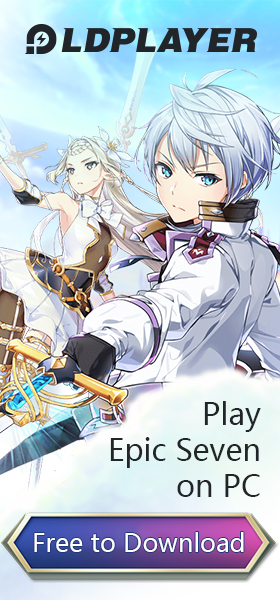 Play E7 on PC with LDPlayer 9
As the best android emulator in the gaming market, LDPlayer is rising to the gaming world with more and more optimized features to advance our gaming experience. This emulator gives you the chance to gain the best taste of the best games on the market. The reason is that it comes with so many advanced features to capture the hearts of Europe and South Asia players, and now they have been advanced to give a super performance to Epic Seven.
The latest LDPlayer 9 has been introduced to the market with the best features to optimize the gaming experience with Epic Seven RPG world, and it is going to be the player's best option to have the best gaming ever. Now, even if a player comes from a low-end PC, they don't have to be worried about compatibility issues as LDPlayer 9 has been developed with the smoothest features, the best response rate, and faster processing. It will be lightweight to give you the easiest engagement with Epic Seven with Android 9.0 Kernel. The emulator has been tuned to utilize less RAM and CPU, so users won't need to worry about it providing the greatest gaming experience even for titles like Epic Seven that demand high CPU consumption.
Epic Seven with LDPlayer 9 Optimizations
LDPlayer 9 has been introduced to provide fluid visualizations for any game, and that allow Epic Seven players to flow with the game easily and smoothly. As it only requires some low needs of requirements, even a low-end PC user is now capable of achieving a higher frame rate for a quality gaming experience from LDPlayer.
Epic Seven can now be advanced with high-quality graphic optimizations even with the highest level of definitions as well as the details. The improvements have been made not to cause the game to be crashed, and LDPlayer 9 will run the game without any crash or lag in the middle of your battles. Players will not be going to experience a stop in their battles in a hallway through it, and everything is now being offered to give the smoothest gaming experience.
There is a range of characters available in Epic Seven that makes us dive through all to find a perfect hero to work with, and every character in Epic Seven has been designed with their own skills, qualities, and performance. The highest performing heroes need to be chosen over dealing with successful gameplay, and they all need to be earned from the rerolling system.
The re rolling process takes up to some time to finish one setup and to do another; players will have to wait. There is no guarantee for a player to receive a top-tier hero on their first try, but the LDPlayer 9 will assure it and earn you a prominent character within seconds.
LDPlayer 9's Multi-Instance Sync feature is specially built to ease these rerolling processes, and it creates several instances from the same game to do so. So you don't have to wait and restart many times to earn your best hero. Instead, you can have multiple rerolls at the same time without spending too much time on them, and by using this way, you will be able to earn a superhero from the Epic Seven tier list.
The next thing that can really help you to rise in the Epic Seven game is the Keyboard Macro Commands. You know that Epic Seven is an RPG game full of battles, and it may require some repeating actions for fighting against enemies. If those repeating combat actions are making you exhausted, you can now set one key to all those movements, and you are going to have the smoothest battle ever with LDPlayer.
And again, if you don't feel comfortable and feel that default key settings for the movements is confusing, LDPlayer 9 will create you a personalized keyboard by setting the most familiar settings for the controls. As you all know, the victory from the battles against enemies will entirely depend on how you move throughout the game, and now you can make them easier and more useful with the Keyboard Mapping feature.
Please don't be sad over thinking you can't play a game like Epic Seven on a low-end PC because of its High demand for computer resources. Even if you are a low-end user, LDPlayer 9 can optimize your gaming with the most adjustable settings to provide you with the smoothest gaming. So it is the right time to play Epic Seven through LDPlayer 9 now and take the experience of Epic Seven to an exceptional level with the best features provided by the emulator.